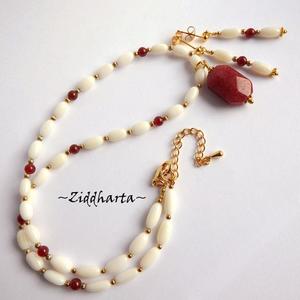 L1:30 SET Necklace Earrings OOAK "Red CadyJade" Necklace White Coral Beads Necklace Red Gems Necklace - Handmade Jewelry and Beadings by Ziddharta
SET: Necklace & Earrings. Red fecetted Cady Jade Pendant with round gemstone beads and white coral rice beads - handmade by swedish jewellry-artist Ziddharta.

The length of the necklace is ~ 17-19 inches adjustable (43-49 cm justerbart).

OOAK - On of A Kind!
Unique!