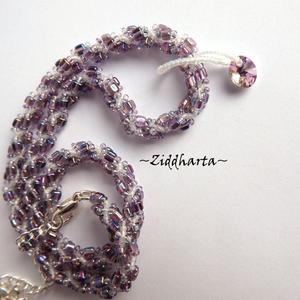 L1:38nn Two necklaces in One "Swarovski Violet Vitrail" Necklace Swirl Spiral Necklace Lilac Lavendel Necklace - Handmade Jewelry by Ziddharta
A handmade beaded and sewn Swirl rope Lilac Lavendel Swarovski Pendant with Seedbeads, the best quality seed beads there is from Miyuki and Jablonex! Handmade by swedish jewellry artist Ziddharta. Beaded. (White beads NOT included.)

2-in-1 Necklaces!
Wear the necklace with pendant or "plain" without the heart pendant! :)

The length of the necklace is ~ 15-20½ inches adjustable (39-52 cm justerbart).